Understand the true value of data
What would happen if...? Data science transforms data into useful knowledge for a given context, helping business leaders understand and interpret the past, answer questions about the future and take the right actions. This is why many companies are turning Data Science into a practice to understand, analyze and solve problems, improve their performance and obtain key information to generate value.
As with most sciences, technology and tools are an essential part of Data Science. Machine Learning and Artificial Intelligence play a big role in using data to address a specific business problem. Cloud computing technology provides the agility, elasticity, and processing power required. Data Integration is key to make sure the feeding data is collected and made available at the right place, format and time for further elaboration and analysis.
Support Digital Transformation with Data Science
From marketing, to production: Data Science can support organizations with disparate use cases. At Primeur, we've been working with data for over 35 years and we can help you design and implement your Data Science projects.
Contact us to learn more!
BIG DATA SOLUTIONS

data lake,
scalable ingestion,
scalable elaboration

FORECASTS

incomes, workloads,
weather,
people movementes

IoT

analysis,
prediction for optimization,
smart living, Industry 4.0

USER PROFILING

clustering,
change analysis

USER BEHAVIOUR

customer retention,
lead generation

RANKING

companies,
sellers, customers

IMAGE / VIDEO ANALYSIS

brands and face recognition,
identification of objects and labels,
conversion to text

ALGORITHM

best price identification,
automatic surveys,
smart support to human selection

MARKET DYNAMICS COMPREHENSION

description of current situation,
early interception of changes,
meaning of particular pattern
visual map

MARKETING SUPPORT

selection of best approach,
automatic campaign optimization

PRODUCTION OPTIMIZATION

waste analysis,
component optimization

SEMANTIC COMPREHENSION

customer retention,
lead generation

RECOMMENDATION ENGINE

e-commerce,
video app,
editorial

DATA REPRESENTATION

neural network maps,
heatmaps,
anti-churn control

UNSTRUCTURED DATA STRUCTURING

collecting structured data
from the web, from images,
from documents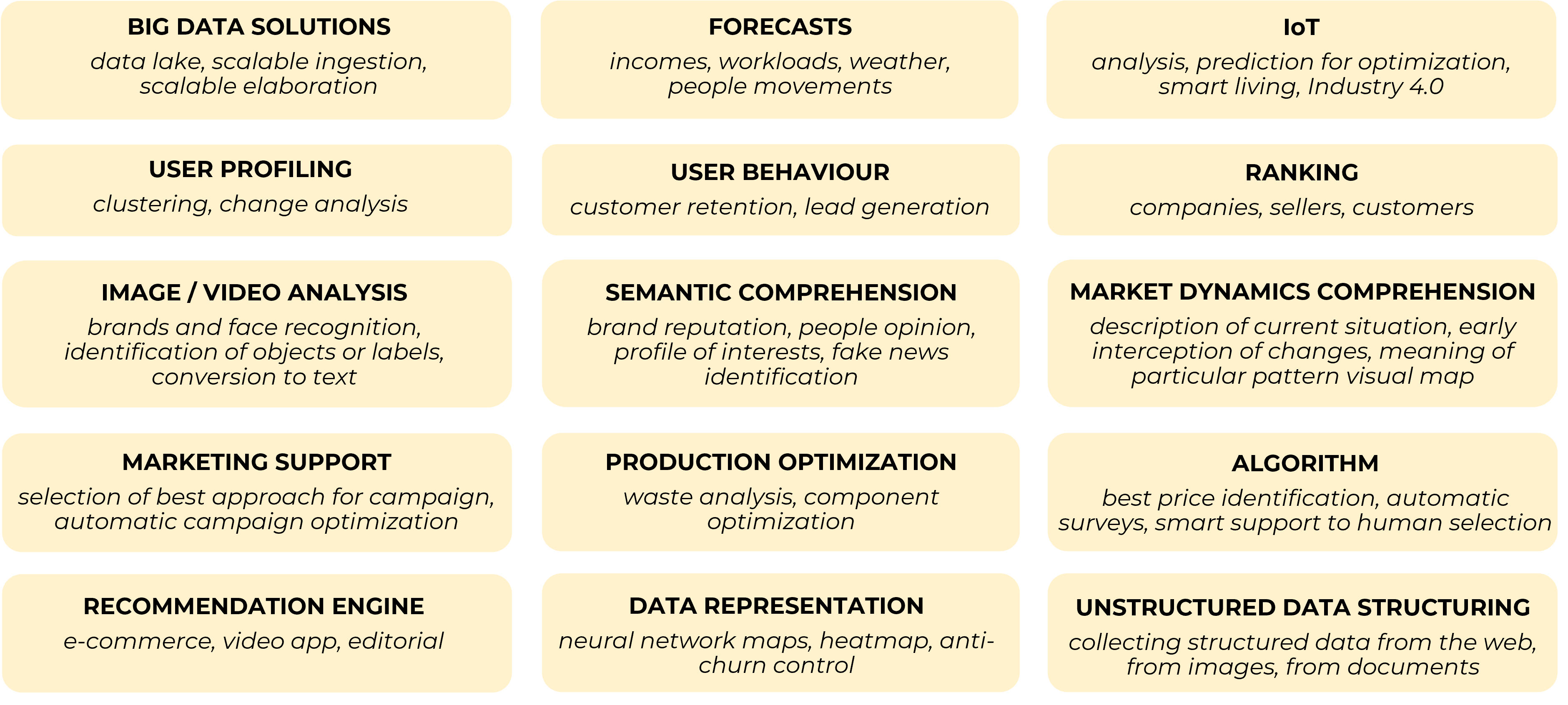 Rely on 35+ years of experience with data.
We've been managing the data of the most important Fortune 500 companies for over 35 years: our Data Science Business Unit consolidates a long-standing expertise, stemming from years of hands-on experience in solving our customers' data integration problems.
By leveraging also strategic collaborations with selected tech partners and universities, we can help companies exploit the full potential of their digital data and generate value for their business.
Do you have a Data Science project in mind?
Let's talk!